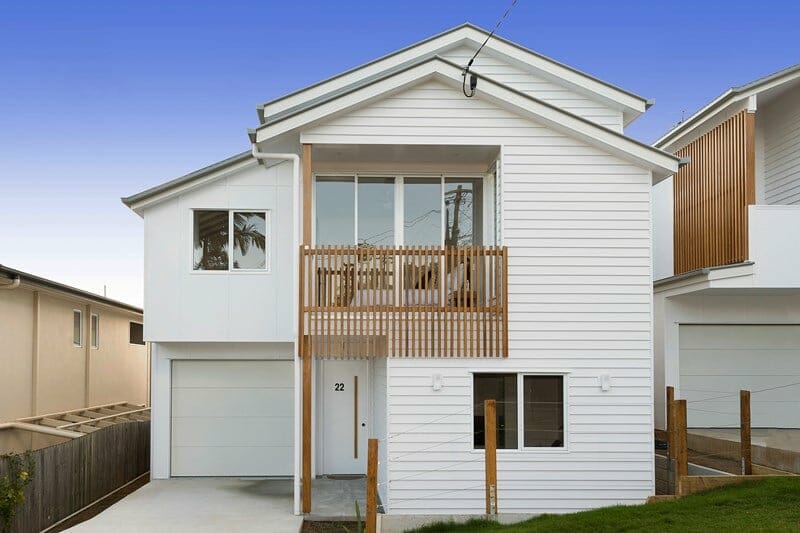 11 Jun

How Much Can I Afford to Spend on my Renovation?
by Victor Kalinowski
The information contained within this page is general in nature. It serves as a guide only and does not take into account your personal financial needs. Before you act on this information you should seek independent legal and financial advice.
If you've been on the fence about a home renovation, now might just be right time to get it done.
When it comes to how much you spend, it all comes down to what you can afford, and we can't stress enough the importance of getting ahead of the game by getting your finances sorted early on. It can be the make or break part of the experience.
Here's an overview of how to estimate what you can afford to spend on your renovation and ways to finance it.
Step 1: Do you have a ballpark budget?
After spending some time with builders and tradespeople going over your ideal renovation plan, you should have a reasonable idea of what you can get done with a ballpark budget.
A ballpark budget gives you the chance to prioritise what's in and what's out – what are your 'must haves' versus 'nice to haves'. It also gives us a basis for starting to work out how to finance your project.
It is common to have your costings come in over your ballpark budget, so we often find clients either decrease the size of work or increase their budget.
Step 2: How will you pay for your renovation?
The easiest way to pay for a renovation is to have a heap of cash sitting in your home loan offset account that you can access to pay for it. If this is not the case then it is likely you will need to borrow money, and here are the two options you have.
As getting access to finance and understanding your options can be tricky, we recommend having your mortgage broker or bank explain it to you.
1. Use the equity in your home:
This can be the go-to option if you already have enough equity in your home. In many cases banks may lend up to 90% of the value of your current home. You will need a valuation from your bank on the current value of your home to do this.
Typically, it takes one to five weeks from when you apply, to get the money into your account.
A word of warning – banks are cautious about giving large chunks of your equity because they want to be sure the money is going to a worthwhile purpose, and the more equity you request, the greater the number of questions they will ask. While it is easy to get $20,000 out, it is not so simple to get $200,000 of your equity out.
2. A renovation / construction loan:
If you do not have enough equity in your home, then you will need a renovation / construction loan. This is the most common approach to financing a large renovation as it's designed to help you through the construction period, for example by allowing interest only repayments until construction is complete.
A key step in getting a construction loan approved is getting a valuation that projects what your home will be worth when the renovation is complete. Banks lend money based on the completed value of your home; the higher the valuation, the more you can borrow.
When approved for a construction loan, the bank will hold the funds on your behalf and pay the builder directly by drawing down on the funds at each milestone (so the money is never in your account).
There are also other finance options like getting a credit card or a personal loan to pay for the renovations. These normally work for very limited renovations and as the interest rates are generally higher it is not something we would recommend.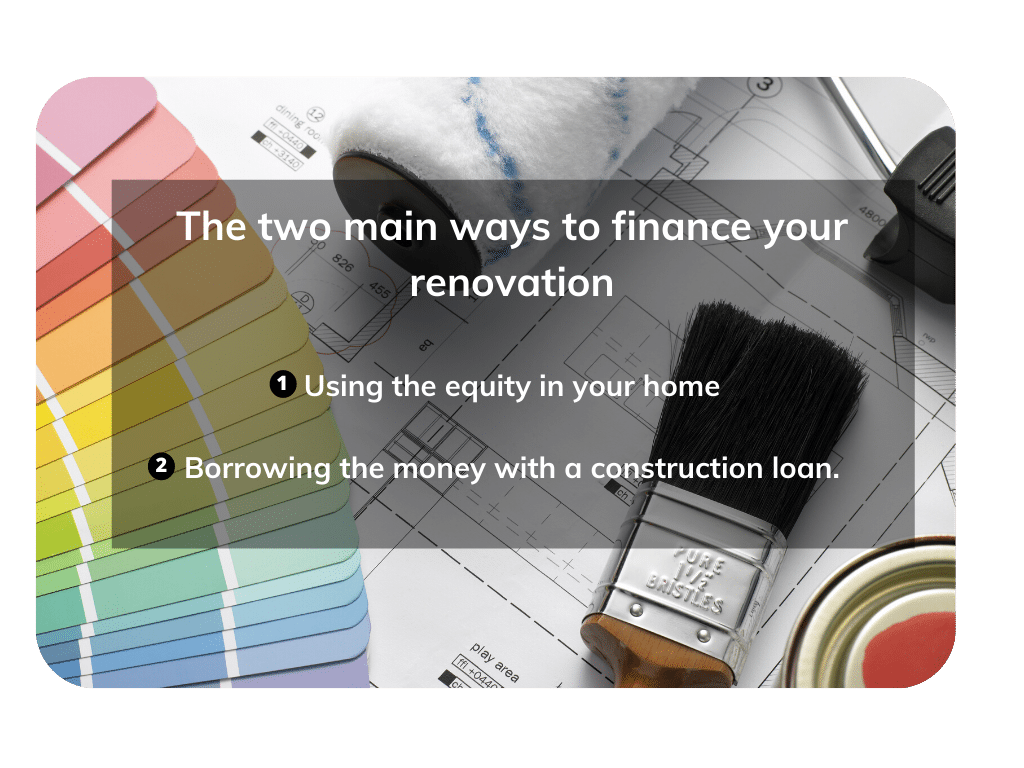 Step 3: Get certainty on what you can really afford to spend
If you do need to borrow money, now is a good time to speak to a mortgage broker or bank. You'll need a solid estimate of what you can afford to borrow and spend and an idea of any issues that may delay or stop your loan from being approved.
We can't stress enough the importance of good home loan advice at this stage given the time and effort involved in planning your renovation and the knowledge that it is getting harder to finance approved generally.
The earlier you can get some certainty around your financial position – the better – to avoid feeling disappointed later if you cannot afford all your 'must haves' or worse, the bank won't lend you the money at all.
It can give you the freedom to customise your renovation even further, add new rooms like a butler's pantry or splurge on higher quality granite benchtops or a Miele steam oven.
Typical questions the bank will help you answer are:
What can I afford to repay in loan repayments based on my income and living expenses?
How much will the bank lend me?
Do I have any issues with my credit file or repaying debts?
What is my home worth now (pre renovation)?
What is my home worth after the renovations are completed?
How the bank estimates what you can afford to borrow and repay in loan repayments
A general rule of thumb on how much you can borrow is 3 to 6 times your annual gross income. For example, if you earn $200,000 a year, then you could borrow from $600,000 up to $1.2 million for your renovations.
Should I get a formal loan pre-approval before I sign off on a final building contract?
In most cases, yes, a formal pre-approval is a good way to go.
The only way you will know for sure if you are guaranteed the funds is by actually applying to the bank formally (and we only do this when you are definitely going ahead with your renovation).
As we've mentioned, a good mortgage broker will give you a pretty reliable estimate of what you can borrow, but a formal home loan approval is even more reliable.
This is still not a guarantee that you will get the loan but if for any reason there are issues, it is best to discover this as early as possible so that you can fix it or make other plans.
Whoever is doing your finance (your bank or mortgage broker) should do this for you.
Step 4: How do I make sure I am not over capitalising?
Renovations will add value to your home, which is part of the reason we do it.
But before a bank lends you money, they want to make sure you're not overcapitalising.
One way to work this out for yourself is to talk with a real estate agent about how much your home is worth now and after the renovation is completed. To get the completed value, look at other properties in your neighbourhood, that are similar to what your completed home will be like and see what they sell for.
For example, say your home is worth $650,000 currently and you are planning on spending $250,000 on renovations. In total you would have invested $900,000.
If a similar home is selling for $800,000 then you might decide that it is not worth spending as much on the renovation. If instead comparable properties are selling for $950,000 or more, it looks to be a lot more advantageous.
Step 5: Getting formal loan approval so your builder can finalise the building contract
When you are committed to the renovation, you will need to notify your mortgage broker or bank so they can get the ball rolling to give you a "formal loan approval".
This gives you full certainty that the bank will lend you the money and may involve:
Confirming your personal and financial details
Getting the 'on completion valuations' from selected banks to give estimates of the value of your home once the renovation is done
Can take between 2 to 10 business days to get your loan approved once we have submitted your application to the lender
After you get 'formal loan approval' your builder will formalise the contract and raise a deposit invoice
Once payment has been received, your builder will get started
When do I need to pay the builder?
The builder is paid in instalments as listed in your contract and are in line generally with what is set by the industry association or can be adjusted to suit the specific nature of the individual contract.
The first payment is usually a deposit of 5% of the total cost of the building contract, which contributes to fund the project to the next progress claim.
About the Author
My name is Victor Kalinowski and I am a Mortgage Broker at Blackk Finance. We specialise in helping people get finance approved for their home renovations. Our offices are based in South Brisbane and Burleigh Heads. You can read more about us or book a no-obligation phone call with me here to talk through your financing options. https://www.blackk.com.au/contact-us/.