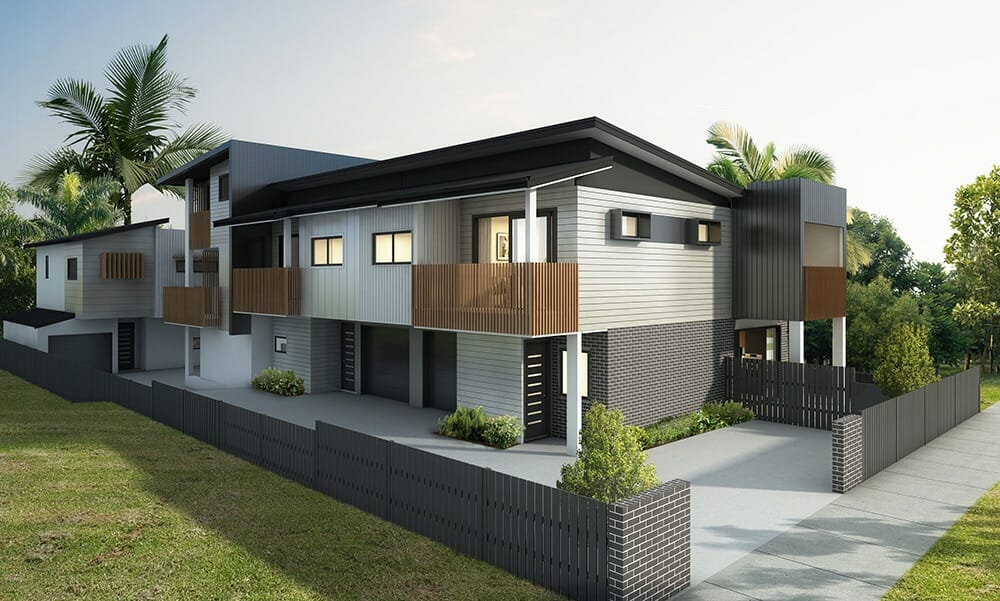 24 May

Take A Virtual Walk Through our Boutique Townhouse Development

While there are some arguments for approaching a building designer and builder separately, there are many perks to selecting a single entity who can complete both the design and construction of your new home under one roof. This is known in the building industry as design + construct.

At Linear Design + Construct, this is our bread and butter and we apply a structural-led design and construct approach to all our projects. This ensures quality and complete transparency throughout the design and building process. We work closely with a number of residential building designers across Brisbane to create house designs that exceed our client's expectations.

This is exactly how we've approached our current multi-unit boutique townhouse development project in Morningside. These stunning Brisbane house designs were created by our associated residential building designers and will be a great example of the excellent quality results you can achieve with design + construct.

The developers behind this project, known as Aurora, selected a design + construct method of construction primarily because they wanted a single point of contact throughout the build who would organise, drive and control the process from concept to completion. That point of contact was Linear who, in addition to design, was also responsible for managing the design process, ensuring it stayed within budget, and the eventual construction of this exciting project.

The first stage of this project, as with any design + construct project, was to consider the brief. In this case, that was getting the best use of this metropolitan site within a strict budget. Due to the quality of location, we knew we needed to provide 5 high-quality, generous sized Brisbane house designs each with 3 bedrooms, 2.5 bathrooms, open plan living and dining, with high-end finishes throughout the boutique townhouse development.

One of the big things to note here is that Linear Design + Construct were responsible for ensuring all these considerations were included in the design and carried through to the final build. Rather than the developer approaching a residential building designer from Brisbane to draw up plans separately, and then coming to Linear to bring them to life, Linear was approached to look after everything from design to construction.

This saw us take a design-led approach to this project and meant sourcing, engaging and managing the following consultants and authorities:
DEVELOPMENT CONSULTANTS AND COMPANIES:
• Brisbane City Council Urban Planning
• Queensland Urban Utilities
• Town Planners
• Residential Building Designers
• Land Surveyors
• Structural Engineers
• Traffic Movement Consultants
• Hydraulic Consultants
• Civil Engineers – Stormwater & Sewerage Designer
• Electrical Supply Consultants
• Telecommunications Consultants
• Fire Prevention and Safety Engineers
• Interior Designers
• Energy Rating Consultants
• Private Certifier
While this development is still in the construction phase, it's already been a great example of a successful design + construct process. Linear has taken a design-led approach, overseeing a team of residential building designers and other professionals to ensure the results match the developers' brief and specifications exactly.
If you're interested in learning more about Brisbane house designs, have a look through the renders of this incredible upcoming project below.
These stunning renders are currently being brought to life in Linear Design + Construct's boutique townhouse complex in Morningside. Aurora features hardwood timbers, neutral tones, 100% wool carpets and state of the art appliances and has been meticulously designed to offer expansive living in a modern, low maintenance setting.
Get in touch with Linear Design + Construct today to find out how you could call this striking development home.
---
At Linear Design & Construct we take pride in staying ahead of the market with the latest trends, techniques, and materials. To help you with your building journey we've put together the 7 reasons why you should engage your builder before your architect. Download today or 
sign up to our newsletter.