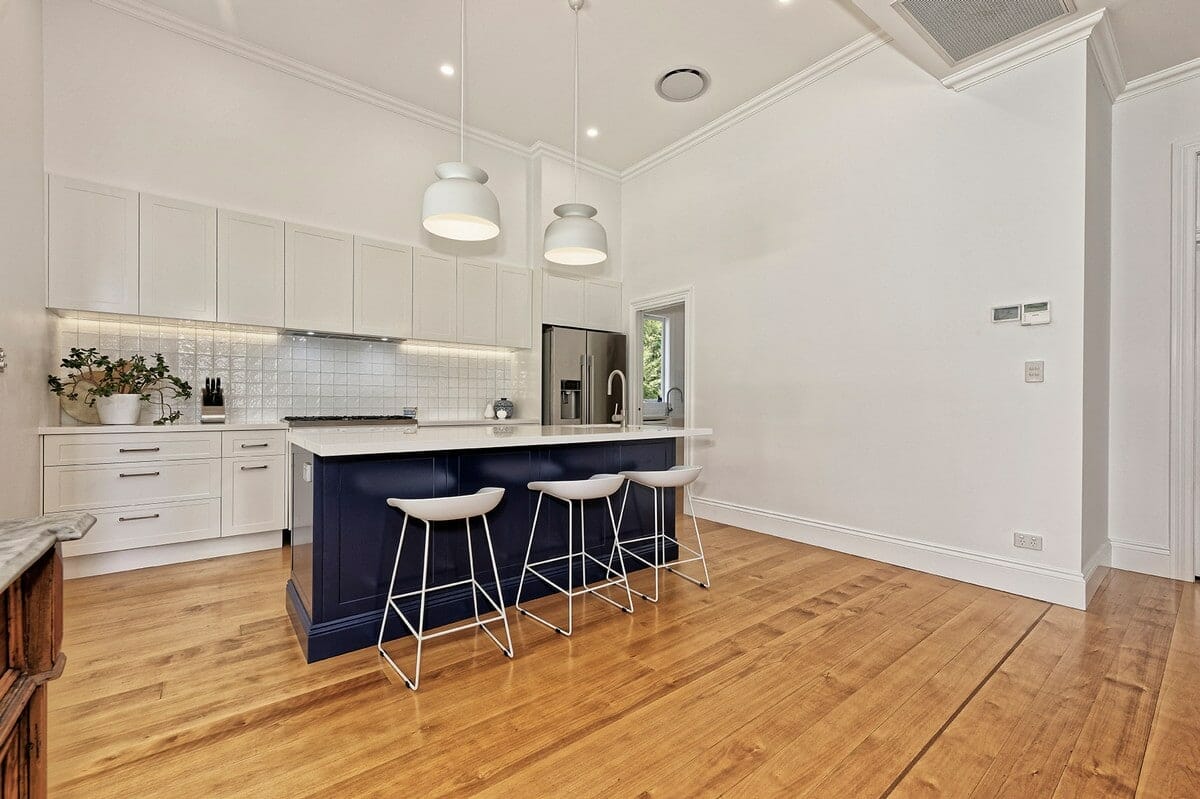 20 Jul

How To Renovate A Kitchen On A Budget

The kitchen is the heart of the home; it's the place you cook for loved ones, gather with the family and create memories. 

As one of the highest-traffic areas of your home, wear and tear is generally more prominent in a kitchen compared to other areas of a home. With this in mind, as well as the quick turnaround in design trends, the kitchen is often top of client's home renovation lists. 

But kitchen renovations can be big endeavours, so how do you renovate on a budget? Keep reading to find out our tips and tricks for how to renovate a kitchen on a budget. 
Understand the time frame of building 
One question we're often asked is 'how long does a kitchen renovation take?' While there is no one answer for this, as different projects will have different requirements and challenges, the time frame can be anywhere between one to six weeks from design sign-off. This is not accounting for materials and fixtures that may need to be shipped in from interstate or overseas. 
You should have a clear understanding of how long your specific kitchen renovation will take, as the length will impact the labour needed to complete your project, which will impact your budget. 
Set clear goals
What exactly do you want to change or update in your kitchen? If you have a strict budget you need to adhere to, you'll need to write up a needs and wants list where you prioritise the essentials. Then if your budget has anything left over, you can dive into your wants lists. 
For instance, if you're in desperate need of extra prep space, then prioritise a long, wide bench or a kitchen island – make sure you work with a builder to determine the cost of these benchtops, plus supply installation fees. 
Pick finishes early 
Like many renovations, the golden rule is to select your finishes and fixtures during the design stage and not during construction. If you make selections later on or change your mind about certain finishes after contract signing, this can lead to budget blowout. Avoid this disappointment and stress by thinking carefully about your selections early. 
Consider the cost of new appliances 
A new kitchen usually means an update of your appliances – from a larger fridge to a brand-new oven. Make sure this is prioritised from the beginning and you've factored in the cost of your chosen appliances – and their installation – into your final budget. 
Understand layout implications
Another element that could have a major impact on costs that frequently gets overlooked are changes to the design layout. Particularly the positional change of the type and location of the proposed appliances. Getting services such as extraction exhausts to range hoods, drainage to relocated sinks, a new gas service to the cooktop that was formerly electric. Can attract a great amount of costs depending on the difficulty of getting these rough in services to the various appliances and amenities.
The other item that regularly accompanies layout changes to kitchens are the structural changes to the existing space/dwelling. This can obviously be quite varied depending on the extent of the changes. Items such as removing walls, introducing vaulted skylights, adding extensions to accomodate a Butler's Pantry, can result in significant additional labour and costs.
The insert photo was taken from our Wooloowin renovation project .This involved the relocation of the existing kitchen to an adjacent room, coupled with major structural changes to open up the space. With this particular kitchen renovation the relocation to a more suitable location was straightforward as it was a suspended single level home. Ensuing that all services could easily be diverted, whilst suspended under the floor to their new location.
Whilst any of these items alone don't necessarily amount to much. It is the collective total of all these changes that will add up significantly, if not kept in check
There's nothing worse than getting to the final stages of construction and realising you haven't allocated enough money for your dream oven!
___
Look to undertake a kitchen renovation in Brisbane? Work with the experts. Get in touch with Linear Design + Construct today.